Ensemble Cascade
Nigel and Ronelle started performing together shortly after being married in 2009 and have been playing together ever since! Nigel and Ronelle have performed throughout Europe, the United States, Canada, Cuba, Brazil, New Zealand and Asia. We are very active orchestral, chamber and solo musicians with versatile careers and are delighted to call Banff home with our Chesapeake Bay Retriever, Molly and their young son Theodore.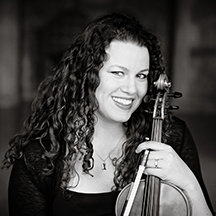 Ronelle Schaufele – Violist/Violinist
Canadian violist Ronelle Schaufele is an active solo, chamber, and orchestral musician who performs frequently throughout Western Canada as well as performances in Cuba, Brazil, United States, New Zealand, and Europe. As a soloist Ms. Schaufele has recently performed Horizons with pianist Luciance Cardassi, a concert tour which featured female Canadian composers. As an avid lover of new music Ms. Schaufele has been delighted to play works composed for her and looks forward to upcoming collaborations. In addition to performing music being created today, Ronelle greatly enjoys performing on period instruments and exploring the rich baroque tradition. Other solo performances include concerts at the Arts & Letters Club of Toronto, Euro Festival in Leipzig Germany, and the Music by the Sea Festival. As a chamber musician Ms. Schaufele's performances include the Musaeus String Quartet, the Fort Macleod International Festival, which was recorded and broadcasted by CBC. She performed with Neworks Calgary, Ensemble Resonance, Rubbing Stone Ensemble and the Millennium Music Foundation Series. In addition she has served as principal violist of the Urban Village Chamber Orchestra, and is currently assistant principal violist in the Red Deer Symphony Orchestra.
Her education includes a Music Performance Diploma from Mount Royal College with William van der Sloot, a Bachelor of Music with distinction from the University of Calgary, with Nicholas Pulos and an Artist Diploma at The Glenn Gould School studying with Steven Dann. Ms. Schaufele also completed an Artist in Residency program at The Banff Centre. An active instructor, Ronelle is currently on faculty at the Amici String Program. Ronelle has also enjoys working with talented young chamber musicians and was recently the Artistic Advisor for the Szekely/Rolston Young Musicians Program in cooperation with the Banff International String Quartet Competition. In the Fall of 2012 Ms. Schaufele founded the Banff String Academy of Music which offers gifted young students in the Banff area advanced musical training.
Ronelle plays on a viola by Canadian maker G.T. Walke in 2002 and an Italian violin made by Joseph Cavaleri made in 1746.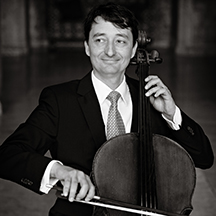 Nigel Boehm – Violoncello
Nigel Boehm has been recognized as an accomplished Canadian cellist through his recordings for Radio-Canada and National Public Radio (USA), dedication to musical education, and many performances as soloist, chamber and orchestral musician throughout Canada, United States and abroad. His musical talents have earned him numerous awards including Laureate of the Debut Competition in Montreal and prizewinner in the Concours International D'Orford and Canadian Concerto Competition. In the summer of 2008, Mr. Boehm was awarded a Cultural Relations grant from the Alberta Foundation for the Arts to travel to the Philippines to attend Opusfest as an instructor and performer. In Manila, he participated in a series of solo engagements with the Metro Manila and Philippine Philharmonic orchestras and chamber music with other international faculty.
Committed to the education of young musicians, Nigel Boehm is a faculty member at Mount Royal Academy and Conservatory of Music in Calgary Alberta, where he is an instructor of cello and chamber music. As well, Mr. Boehm has given master classes in Western Canada, the United States, Hong Kong and Japan, and summer classes at the Valhalla Summer Music Festival in the interior of British Columbia.
As an adjudicator, Mr. Boehm has participated in regional music festivals, and served as a jury member for such competitions as the Hong Kong Schools Music Festival, the Northern Alberta Concerto Competition and Medicine Hat Concerto Competition and regional music festivals throughout Alberta. In addition, he has served as a juror on the Alberta Foundation for the Arts in the awarding of grants to Albertan musicians.
As an orchestral musician, Mr. Boehm is currently the assistant principal cello with the Red Deer Symphony Orchestra, principal cello and soloist with the Bow Valley Chorus Orchestra, Calgary Festival Chorus and a frequent extra with the Calgary Philharmonic Orchestra. He is also active as a freelance musician with orchestras throughout Western Canada and the United States.
Mr. Boehm holds a Performance Diploma completed at Mount Royal College (Calgary Alberta) under the tutelage of John Kadz, a Bachelor of Music in solo performance from McGill University with a minor in Musicology and Music History, and a Masters of Music also completed at McGill University with Italian cellist Antonio Lysy. Following his formal education, Nigel Boehm has on several occasions been accepted as an artist in residence at the Banff Centre for the Performing Arts.
Aside from his musical endeavors, Mr. Boehm is a consultant, dealer and bow repairer for Wilder & Davis Luthiers, one of Canada's largest stringed instrument workshops based in Montreal Quebec and manages Wilder & Davis's satellite workshop in Banff, AB.
Nigel plays on an award-winning violoncello by renowned French maker C.A. Miremont from 1879.